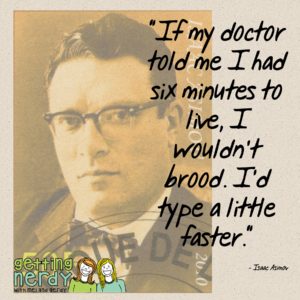 Start your year off by teaching your students about the scientists, inventions, and discoveries of the world. The scientists, inventions and discoveries highlighted in each monthly installment are great starting points for interactions with your kiddos, such as class discussions that can get your kids interested in science or history, project starters or writing prompts, or just as a fun intro to the great people born and things made in the month of January! Enjoy!
Birthdays
January, 1864 or 1865 (exact birth date unknown): George Washington Carver, American botanist, chemist, scientist, inventor and professor. Carver was born into slavery in Missouri and was best known for devising hundreds of uses for peanuts
January 1, 1942: Edward Joseph Hoffman, American biomedical physicist who helped develop the Positron Emission Tomography scanner, or PET Scanner, which is used to detect cancer and other diseases
January 2, 1920: Isaac Asimov, American biochemist and author who wrote countless science fiction novels and science books for non-scientists
January 4, 1809: Louis Braille, French inventor who developed the reading and writing system of raised dots that allowed the blind to read. Braille, himself, was blind
January 9, 1858: Elizabeth Gertrude Knight Britton, American botanist known for her substantial contributions to the field of bryology, the study of mosses
January 11, 1895: Laurens Hammond, American inventor who invented the Hammond Organ
January 14, 1943: Shannon Lucid, American biochemist and astronaut who stayed aboard the Russian space station Mir for a record breaking 188 days in 1996. She studied the long-term effects of space flight on the human body
January 16, 1901: Frank J. Zamboni, American inventor of the Zamboni ice resurfacer
January 18, 1858: Dr. Daniel Hale Williams, American physician who performed the first prototype open heart surgery
January 30, 1925: Douglas Engelbart, American inventor of the computer mouse
Events and Inventions
January 3, 1871: Cleveland Abbe became the chief scientist of the newly formed U.S. weather service making him the first professional meteorologist
January 5, 1933: Construction work began on the Marin County side of the San Francisco's Golden Gate Bridge. The Golden Gate was the first bridge in the U.S. to have piers built in open ocean
January 8, 1838: First telegraph message was transmitted in the United States
January 9, 1839: Invention of the daguerreotype photographic process, named for its inventor Louis Daguerre, was announced at the French Academy of Science
January 13, 1957: The Wham-O company developed the first frisbee
January 15, 1861: E.G. Otis was issued patent #31,128 for the safety elevator
January 17, 1929: Edwin Hubble presented his, now famous, paper that first showed the universe was expanding
January 20, 1885: The first United States patent for a roller coaster was issued to La Marcus Thompson of Coney Island, NY
January 21, 1790: Dr. Joseph-Ignace Guillotin proposed his guillotine to the National Assembly of Paris as a "humane" method of execution
January 27, 1880: Thomas Edison was granted Patent #223,898 for "an electric lamp for giving light by incandescence"
SaveSave
✕
Inspire Students. Love Teaching.
We have everything you need to successfully teach life science and biology. Join over 85,000 teachers that are seeing results with our lessons. Subscribe to our newsletter to get a coupon for $5 off your first order!

Want some extra amazingness? Use the coupon NEWNERD to get 15% off your first purchase of a Nerdy resource from our website! We love our Nerdy teachers!