Dear Mel and Gerdy,
"I buy your products, and my students take FOREVER to cut the pages out. What suggestions do you have to minimize the time it takes to cut and paste the pages into their interactive notebooks? I don't want to cut pages myself on my prep time either." – Nicole
Of all the questions about interactive notebooks, we get asked this one the most often. Interactive notebooks, INBs or ISNs can be daunting to use in the classroom. The work is often seen as tedious and time consuming, cutting time usually becomes social time which slows the process down even further, and teachers become turned off to interactive notebooks because they end up wasting valuable class time. Well, we're here to say – DON'T HATE! We've got six solutions for you that will allay your fears and turn you into an INB LOVER. INBs are a precious resource that provide unique, hands-on learning opportunities for your kiddos – so don't give up on them! Instead, use our time savers below…
1. Time them: Students enjoy the social aspect of sitting at a table and mindlessly cutting, thus they will often take longer to complete a task. Use a visible timer such as ONLINE-STOPWATCH.COM, provide them with an appropriate amount of time to get the cutting completed, and they will be able to see a countdown to completion. Once the timer goes off, it's your cue to move on. Some students may get left behind but they'll eventually learn that it benefits them to stick with the group and work quickly. Plus, the more practice they have in completing these tasks, the faster they will get.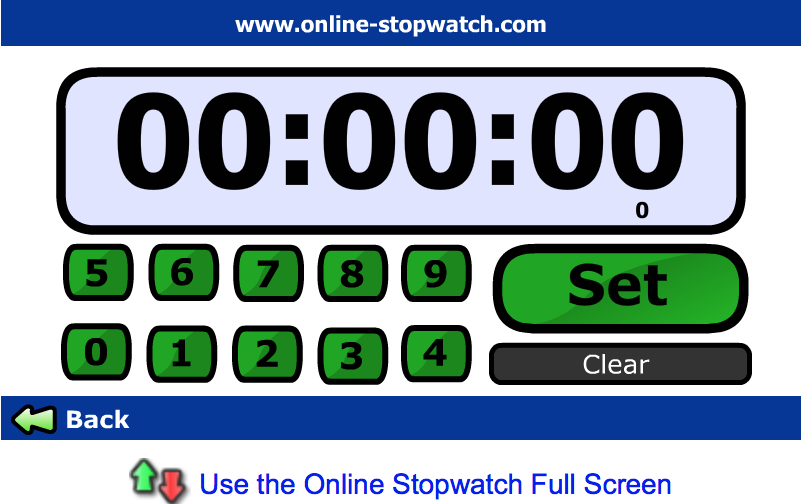 2. Take time off: If you are able to plan ahead and make copies of your interactive notebook activities in advance, give all of the activities that you will do for the unit, the week, or even the entire month up front. Have students spend a day or part of a class period cutting out all of the pieces that will go into their interactive notebook. If a student is done early, they can assist others who are having difficulty (don't forget to reward their generous behavior). Store cut-out pieces in a gallon size ziploc bag labeled with their name and place those bags in a crate or filing cabinet with labeled folders for each class period. As activities are assigned throughout the unit, you or your "supply manager" can retrieve the bags for each table to easily assemble and complete the activities. When finished, return storage bags to their folder.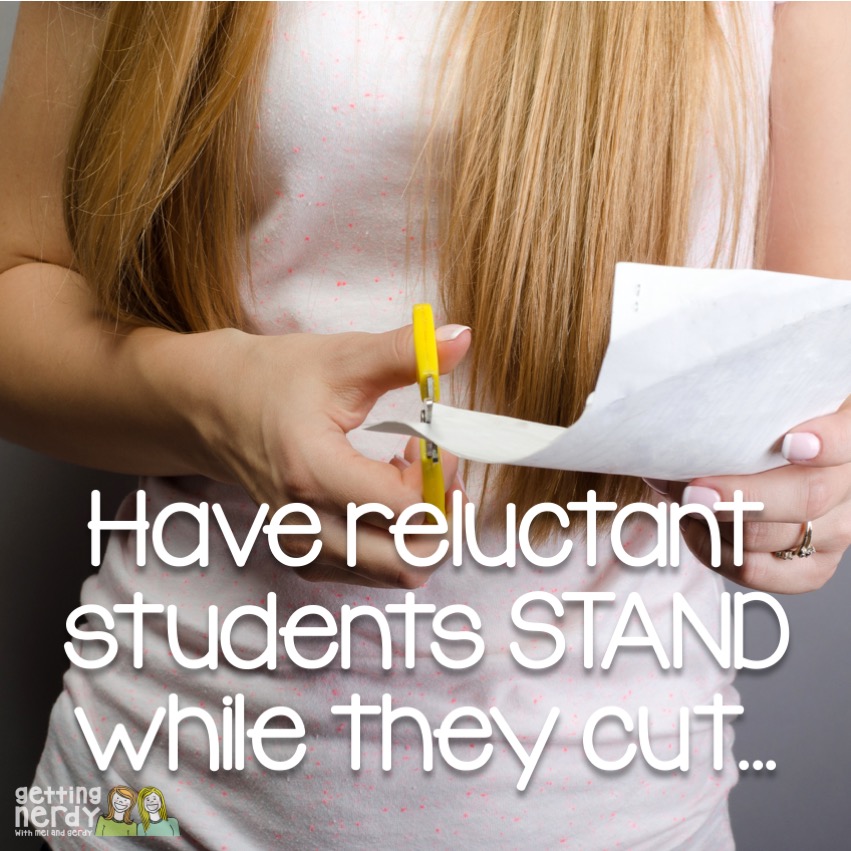 3. Stand up: While this is not our preferred method, many teachers have told us that this trick often works for them. Cut DOWN on time spent cutting by having students STAND UP until they are finished. If they're like most students, you'll find that they do not enjoy standing while working. Sitting seems to lend to doing things at a slower place – elbows propped on the table, heads down, slouching in chairs – but standing requires more effort and energy. Not to mention it can get uncomfortable if it's done for too long. Make it a race to see who sits down first after NEATLY cutting out their pieces. Again, have those that finish help those still working but allow them to sit while they assist others.
4. Assign homework: If there is no class time to offer up, consider sending students home with some cutting homework. This way you can spend more time on the meat of your activities in class. This also puts a very simple homework responsibility on the students (meaning mom and dad can take a break from the homework nightmare). Have students cut out all of their activities at home each day/week/unit and keep them in an envelope or bag to save their work until its needed. Suggest gluing or stapling the envelope or bag to the inside of the front or back cover of their composition interactive notebook so pieces are always on hand for every classroom activity. You could even give homework points for completion of these assignments. While these are not replacing ALL of your normal homework assignments, they can give easy points to students who comply and add just a few extra minutes a night to cut and prep for the week ahead.
5. Ask for help: Use your voice – ask for help! If you have a very tedious and time consuming project coming up but don't have class periods to offer up for cutting, email your class parents and your PTA to see if some of them would be willing to join you during your planning or before or after school to help with cutting. You can even ask students to join you during lunch or study hall. Remember to take care of those students who take care of you – repay them with a fun "student helper" movie, class money, free-time or another favorite class reward to enjoy at the end of the week once they're finished with their schoolwork.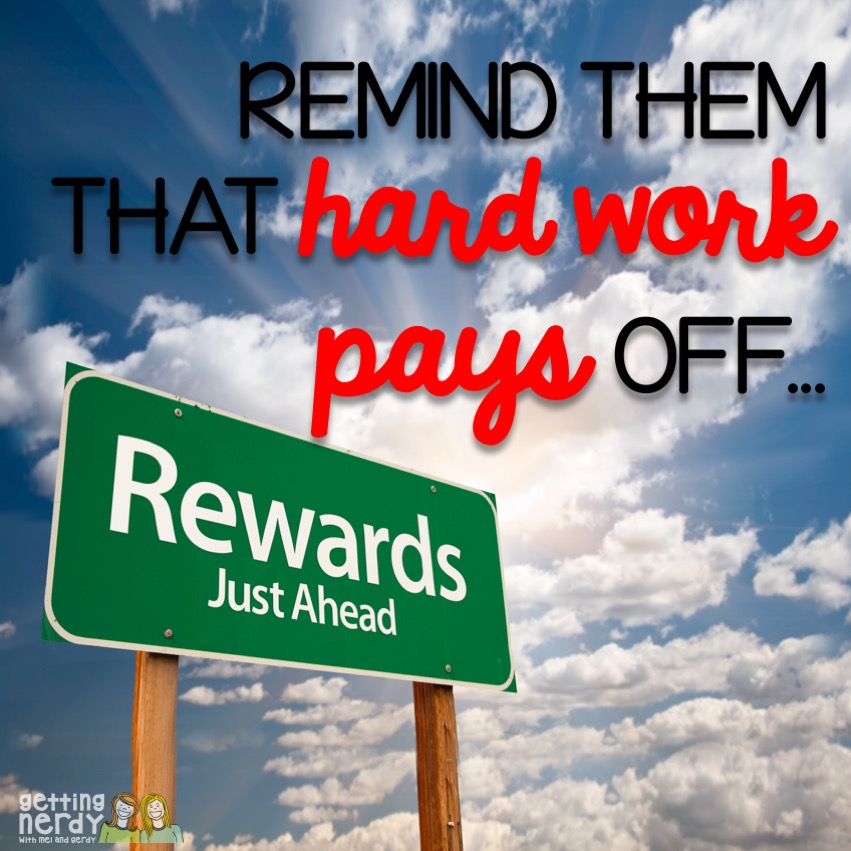 6. Did we say REWARD?: We can't say enough how important it is to provide incentives for getting done quickly. Students at this age always work better on extrinsic, rather than intrinsic, rewards. Give out class money, stamps, stickers, small mints or candies one day a week or every few days to show that you're proud of their ability to manage their time. Teachers everywhere (including US!) rave about sites like Classdojo.com which allow you to monitor students over time all while notifying parents of their child's progress. While interactive notebooks are just one small part of your classroom management system, students and parents will see that their active and timely participation is important to you and to their studies.
So, we hope we've made you into a convert with these simple and easy to implement strategies for "cutting" down on time consumption during interactive notebook activities. Have any more you'd like to share? Add 'em in the comments below! Looking for a complete bundle of Life Science and Biology INB activities? Check them out HERE. Happy notebooking!
✕
Inspire Students. Love Teaching.
We have everything you need to successfully teach life science and biology. Join over 85,000 teachers that are seeing results with our lessons. Subscribe to our newsletter to get a coupon for $5 off your first order!

Want some extra amazingness? Use the coupon NEWNERD to get 15% off your first purchase of a Nerdy resource from our website! We love our Nerdy teachers!