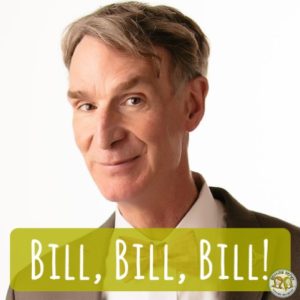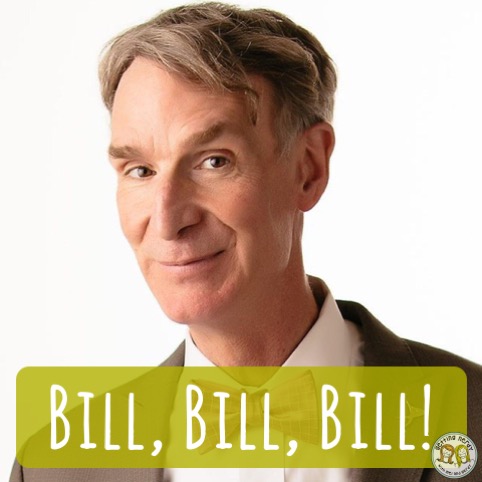 It's February, the month of LOOOOOOVE, and as nerdy science chicks to the core, it's hard to de-Nye our love for the science icon, Bill Nye. It's hard to sum up a guy like Bill Nye. He's a scientist, inventor, science advocate and educator, comedian, actor, writer and he began his career as a mechanical engineer. Whew! We can't even read that sentence without needing a nap! You probably know him best as "Bill Nye the Science Guy" from his extremely popular television show of the same name. But, how did young William Sanford Nye become one of the most well-known science educators (and all that other stuff) in the country?
Bill Nye was born on November 27, 1957 in Washington, D.C. His mother was a codebreaker during World War II–can you say brainiac?– and his father was a military officer. Bill's father was held as a prisoner-of-war for almost four years in a Japanese P.O.W. camp. While under arrest at a camp with no electricity, he became obsessed with sundials, a fascination he passed on to young Bill.
Bill attended average elementary and middle schools, but studied hard, finally winning a partial scholarship to the prestigious Sidwell Friends school in Washington, D.C. You know the school Sasha and Malia Obama attend? Yep, that one. From there, Bill went on to Cornell University where he majored in mechanical engineering. Carl Sagan was one of his professors! Seriously cool!
Bill began his career in Seattle at Boeing where he developed hydraulic systems for 747 airplanes. He also starred in Boeing's training videos which may have sparked his bug for acting. Some friends pressured him to enter a Steve Martin look-a-like contest (we're not making this up) and, after taking the top prize, Bill began doing stand up comedy at night after working long hours at Boeing during the day.
Bill Nye's big break came when there was a last minute cancellation one night at a comedy club and the producer asked Bill to fill several open minutes on stage. He describes his performance: "I did Household Uses of Liquid Nitrogen, where I roasted marshmallows in nitrogen and breathed smoke out my nose after I ate them, and froze an onion so it sounded like breaking glass when I cut it with a knife." That certainly sounds like the Bill Nye we know and love! Thereafter, one of his fellow comedians dubbed him the Science Guy. Bill eventually left mechanical engineering to become a full-time entertainer and science educator.
After starring as Dr. Brown's assistant in Back to the Future: The Animated Series, Bill was offered his own television show. This, of course, became the beloved science education show Bill Nye the Science Guy which ran from 1993 to 1998. Bill believed the best way to get through to people and teach them something was to make them laugh and he did just that, while inspiring countless children to study science.
But, don't think for a minute that Bill has slowed down since wrapping up The Science Guy in 1998. Since then, he has hosted two other television shows, appeared in many more TV shows and movies, and authored a number of books. He is continually called on as an expert to comment on topics including global climate change, the nuclear disaster in Japan following the 2012 tsunami, sustainable energy, and evolution. Bill holds several U.S. patents, including one for ballet pointe shoes!
Now, more than ever, Bill Nye plays a vital role in our country as a tireless defender and promoter of science. He's also our biggest science education idol. We love you, Bill!
SaveSave
SaveSave
✕
Inspire Students. Love Teaching.
We have everything you need to successfully teach life science and biology. Join over 85,000 teachers that are seeing results with our lessons. Subscribe to our newsletter to get a coupon for $5 off your first order!

Want some extra amazingness? Use the coupon NEWNERD to get 15% off your first purchase of a Nerdy resource from our website! We love our Nerdy teachers!