Welcome to the first week, teach! Ready to start the new semester? Wait a minute… who ARE these people? ALL new faces and ALL new names, it's a wonder we can remember our own in those first few days of awkward introductions and mispronunciations. Instead of spending endless class periods discussing your syllabus and class expectations, liven up your back to school rituals with some activities that help students get to know each other and help you to get to know your students. We've created a
back to school pack
that includes seven INB and bulletin board activities to help you start the year off right! Check out these ice breakers for the first week of school!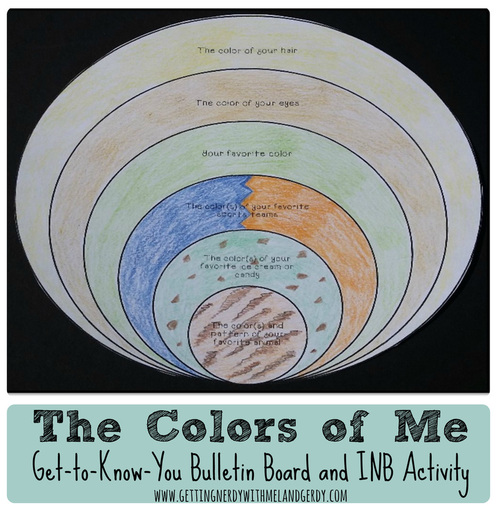 First day introductions are hard for everyone, so give students the opportunity to use their voices without actually speaking up. A simple color wheel inventory is a great way to let them show a little about themselves without revealing more information than they are ready to share. Then, hang them around the room and pair students up with someone they don't know. As they discuss their color wheel with each other, they can go on a scavenger hunt to find the wheel of their classmate. It's so fun to see students having conversations AND moving about the room.
Dig a little deeper by getting students into writing with an "I Will" poem. Use this simple poem to allow students to express their creative side while giving insight into their own personal expectations for the year ahead.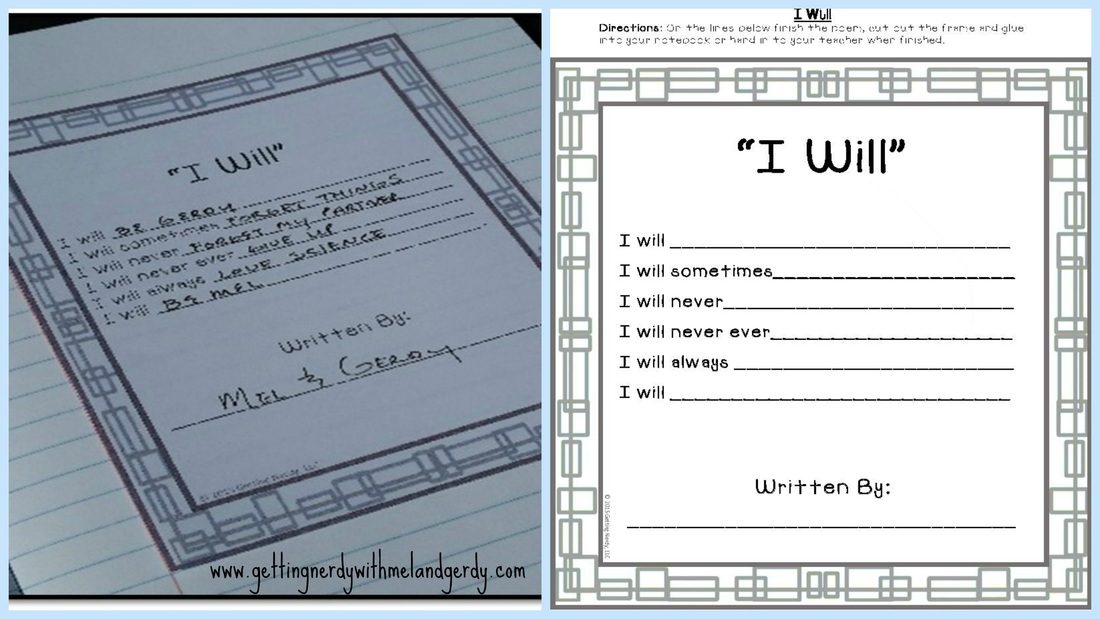 Want your students to get to know each other a little better? Use a Venn Diagram – it's a little bit science and a little bit awesome at the same time! Have students complete a personal inventory and then get into "Social Circles" where they can compare and contrast their likes and dislikes, find their similarities and differences. It's a great way for students start real conversations with each other!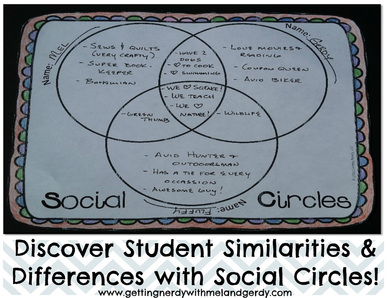 Another great way to get to know your students is to put them on display! Many of the activities above are great for bulletin boards, but this one will fill your whole space! Have our students create an "All About Me" mini-poster that they can hang on the wall for others to read. Then "honey-comb" them together to make your own community "hive". It's an easy way to introduce new faces without all of the embarrassment of standing up in front of their peers.
Interested in any of the activities mentioned above? Check them out HERE! And, here's to your first week back… we KNOW it's gonna be great!
✕
Inspire Students. Love Teaching.
We have everything you need to successfully teach life science and biology. Join over 85,000 teachers that are seeing results with our lessons. Subscribe to our newsletter to get a coupon for $5 off your first order!

Want some extra amazingness? Use the coupon NEWNERD to get 15% off your first purchase of a Nerdy resource from our website! We love our Nerdy teachers!