Welcome back to school! Whether you're new to the classroom or a seasoned vet, the first week is ALWAYS nerve-wracking, conjuring up nightmares of dissections gone awry and showing up to work in only your lab coat… yikes! We know all too well how hard those first few days can be, so we've come up with a list of our top ten things you can do for a smooth transition from the free-spirited days of summer to the structured atmosphere of your classroom:
REFLECT ON LAST YEAR: If this is not your first year, take 10-20 minutes to reflect on your last year. Think about what worked, what didn't, and what you can change that may improve your class vibe, flow and behavior. If this is your first year, use that time to brainstorm your dream science classroom/lab. You've imagined what your classroom will look like for so long – make it a reality. Remember to keep your kiddos and their needs in mind as you design your layout.
MAP IT OUT: Sketch out a timeline for your 1st It can be detailed or just outline chunks of time for each topic. Either way, it's a roadmap that will help to keep you on track for finishing your material with plenty of time for mastery before your EOCT's.
ORGANIZE YOURSELF: Buy a bunch of bins like these or these and set up your labs so that they are completely ready to go. For example, pull everything you might need for your bird beak lab, put it all together in one bin, slap a label on it and put it in your closet organized by unit. This makes set-up and break down so easy and FAST, leaving you precious time to clarify procedures, explore more, or go over lab questions.
ORGANIZE YOUR STUDENTS: Make a station (or stations) for students to get make-up work or daily handouts, sharpen pencils, grab supplies, etc. and refer to those areas frequently for the first few weeks of school. This will ensure that your middle schoolers will be self-sufficient (for the most part) and you'll spend less time "herding cats."
GET THE WORD OUT: Laminate your word wall and invest in a few yards of felt, whatever hangers work best for you, and some adhesive Velcro. Hang the felt on your wall. Attach the rough side of the Velcro to your words. Sort by unit, hang them up (or have your kiddos hang them up as they are introduced to them), and BOOM. Easy to rotate words.
REMIND THEM: Hang up these posters (click the button below to download). These are our favorite for life science. We think these are some of the greatest reminders for budding scientists as they explore and observe the world around them.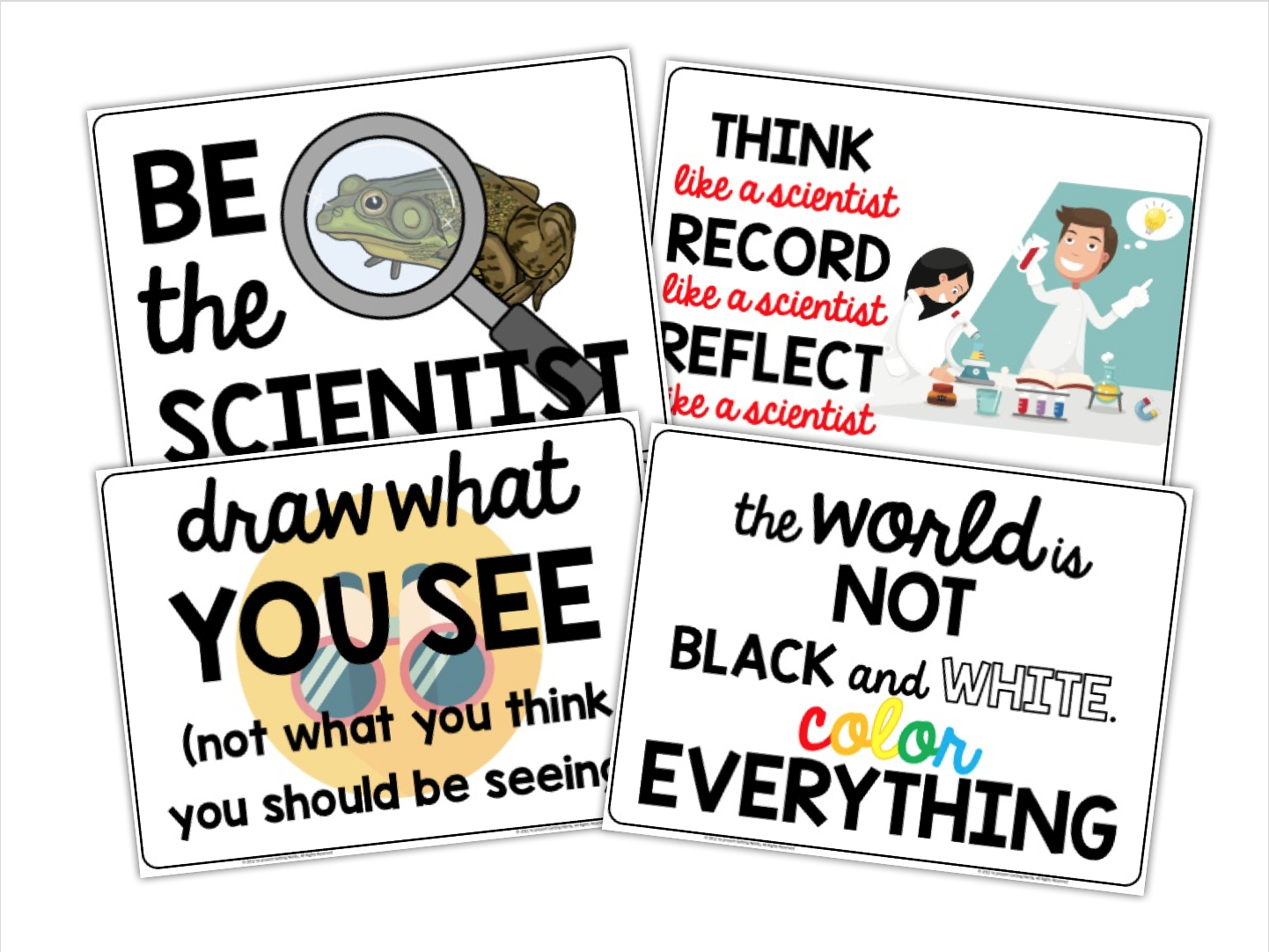 GIVE THEM WHAT THEY NEED: If you're an INB or spiral notebook adopter, buy your supplies before your kids arrive – ALL OF THEM. It makes life so much easier when all kids have supplies and can start on the same day together. To recoup your loss, have students buy one to replace yours (build your supply for next year and our favorite method) or have them pay you an appropriate amount for a notebook.
HAVE A BACK UP PLAN: Create a back-up plan binder – quick to implement lessons that you can copy and use when your projector breaks, a promethean pen doesn't work, or your power strip is down and your microscopes go dark.
COPY THAT: Make all of your first week's copies in advance. Seriously. It's the easiest thing you can do and will make your mornings and afternoons relaxed (is that even possible?).
THIS IS AN EXPERIMENT: Every new year in the science classroom is an experiment in teaching. Remember to have FUN, laugh OFTEN, and that each time you fail, it's an opportunity to revise and retest. Sound familiar?
Up next?: The first week of school… yep. It's here… let's get ready.
Happy teaching Scientists!
✕
Inspire Students. Love Teaching.
We have everything you need to successfully teach life science and biology. Join over 85,000 teachers that are seeing results with our lessons. Subscribe to our newsletter to get a coupon for $5 off your first order!

Want some extra amazingness? Use the coupon NEWNERD to get 15% off your first purchase of a Nerdy resource from our website! We love our Nerdy teachers!